28. 5. 2019
Relentlessly, we are printing more tokens and address new artists for you. What new treats we added to our portfolio for the custom token lovers in May?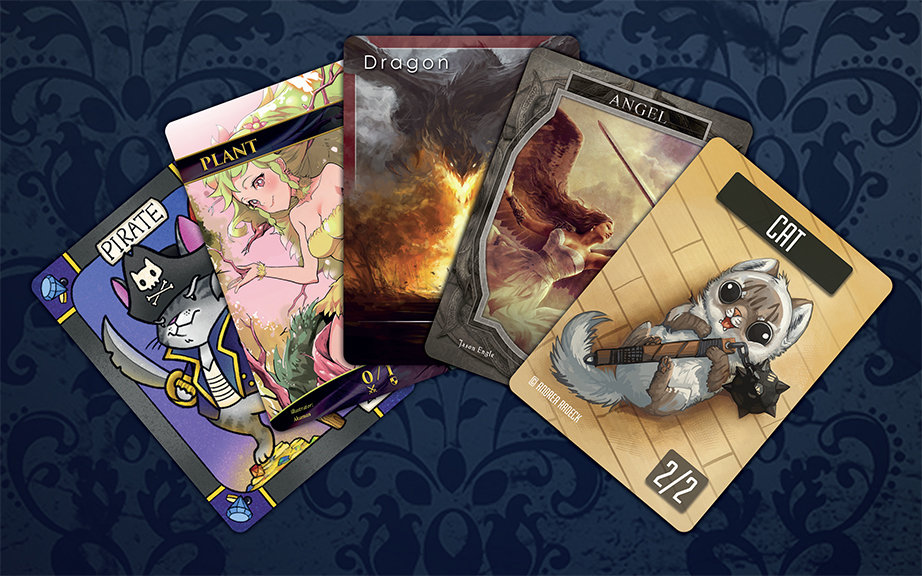 There's probably no need to introduce Andrea Radeck. An artist you know well if you drafted Unstable and enjoyed combining animals. Cards like Adorable Kitten or Mother Kangaroo are her work. Andrea is also the author of Creature Collection – a set of cute animals you can be familiar with from tokens or playing accessories from StarCity Games. Her own tokens bring the same levels of humor and cuteness. Soon you will find them in our store also in foil versions!
Check out all the new tokens from Andrea Radeck.
And we stay with animals for a bit longer. Tokens of American artist Leah Andersen are among the most popular ever and Leah herself makes new tokens with every set that comes out. For Guilds of Ravnica or Ravnica Allegiance therefore you are not limited to official tokens anymore, and some other older, but very popular cards got their tokens as well. Would you enjoy 5/5 Elemental for Omnath, Locus of Rage, or a 6/6 dragon if you are playing Utvara Hellkite?
Check out all the new tokens from Leah Andersen.
Do you like to read comics from Durdling Around? We have ten of their tokens for some time, but now we have also regular versions, so you can enjoy them even if you do not like foils.
Check out all the new tokens from Defrington.
More manga? More manga! Welcome Lamine Kerchi, a new artist from Canada, who made six tokens in popular manga style. And for sure these are not his last. You can find them in both classic and foil versions.
Check out all the new tokens from Lamine Kerchi.
Also lot of the new tokens came from Mezzocielo & friends and their artists!
Check out all the new tokens from Marco Moni and Ralf Joshua Trillana.
We have not forgotten our original brand as well. Enter the long-awaited The Monarch, really angry 4/4 Beast, and 3/3 Frog Lizard with her froggie friends. But soon you can expect War of the Spark related tokens.
In June and July, a load of new tokens from artists current and new are coming, so keep tuned! Until then, do not forget to follow our news and updates on our social media and write us what tokens would you like to see in our portfolio.