25. 2. 2018
The jungles of Ixalan has seen a lot of fighting in the past months, and more is yet to come. Orazca, the Golden City, has been found, and everyone wants to secure their grasp on it. And we are here with even more Ixalan-themed tokens (but not only them) to help you.
Last batch brought a fresh new Pirate and Treasure tokens. So obviously, we cannot leave out another of the Ixalan tribes. So without further ado, here's our feathered, bright, sharp-toothed jungle beauty representing the Sun Empire.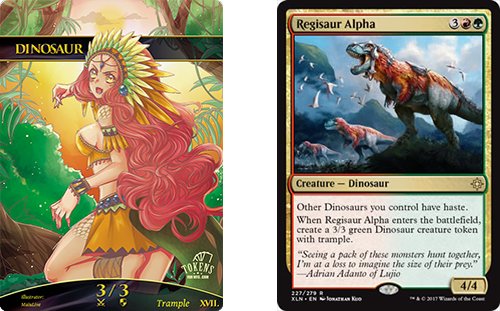 The Sun Empire worships the Threefold Sun, who creates, nurtures and burns to create anew. Tilonalli, the Burning Sun, has indeed many ways of showing its favors. One favor it has surely shown was to give the players a Constructed-playable phoenix. And we have a really fervent Tilonalli's worshipper to go with it.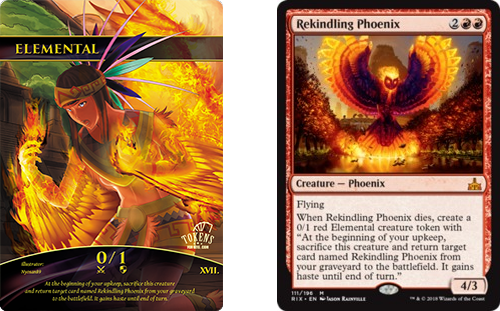 Whoever controls Orazca is said to control the fate of Ixalan. And the city is willing to bless those who brave the elements and jungle to reach it. In our case, two pirate girls from the Brazen Coalition are just receiving what Orazca gives.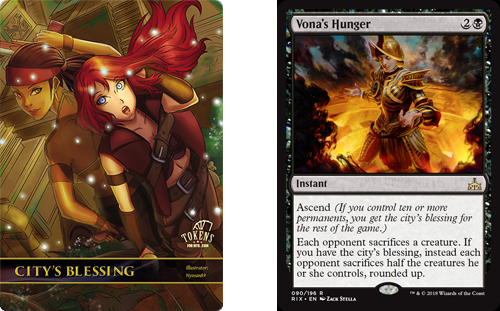 The last token is not from Ixalan, but we saw it return quite recently in the Duel Decks Merfolk vs. Goblins. Maybe you remember the time about exactly four years ago, when Mono Blue Devotion come crashing the tournament scene like a tidal wave, headed by Thassa herself and the Master of Waves.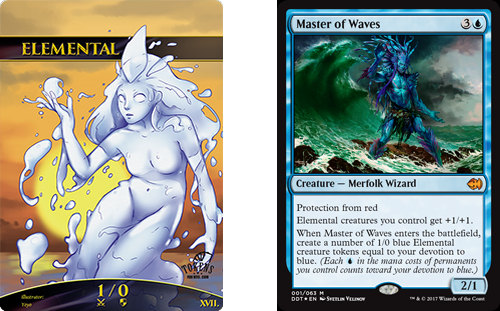 Let's leave the Golden City, but not gold. Wizards gave us the third Un- set just before Christmas, and a very peculiar sword came with it. And since everyone who played Dungeons and Dragons know that metallic dragons are good and colored are bad, just enjoy the company of this dragonlady knowing that she should not be a danger to you.
Also this token is not for sale! As special limited promo you will get one piece FOR FREE for your orders above 10 EUR/12 USD/260 CZK from tokensformtg brand portfolio. Available for wholesale partner stores too!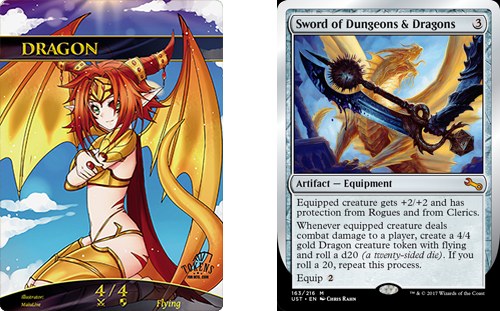 And for the Organized Play Kit, we have prepared something VERY special this time. We have heard the voices of people being sad about the Map of Ixalan playmat from Wizards, so we decided to make our very own. Accompanying it are Ixalan Saprolings, as tender as a dryad's work can be.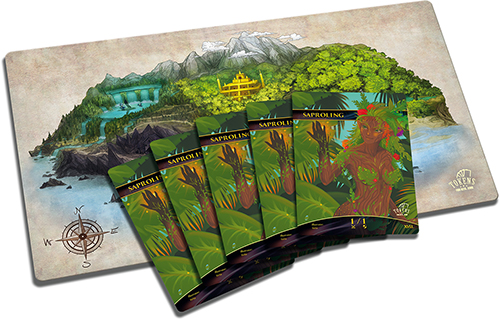 Game kits are available for stores only! If you are a shop owner and you are interested in wholesale and game kits, you can contact us or make direct registration to get access for those special products and wholesale prices.